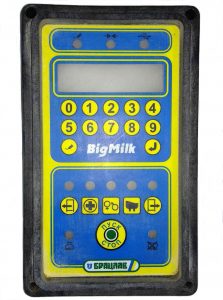 Milking point controller BD-06 provides for fast, easy, efficient milking, and gives you all the information you need in a clear and precise manner.
The unit acts as a system of milking equipment, milking measurement, identification of animals using RFID, ​​indication of current milking parameters,  integration with milking machines.
The unit works with the manipulator (MD-F-1-02) or similar.
The unit is designed for carrying of electromagnetic milking pulsator.
Technical details are at "Service Documentation".
Features:
The multifunctional button "Start-Stop" which simplifies the work of milkmaids
Automatic valve control of support of milking machine
Buttons for input and output gates of milking parlor that enable personnel to operate them from any place in parlor
Designed for use in "Internet-Farm" and works with the systems of the central and local identification
6-digit LED display
Degree of protection against external influences (International Protection Marking) – IP54.