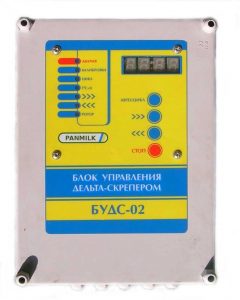 Full automatic control unit of alley manure removal systems. Controller for automated cleaning barns (cattle kept) machines. Mechanical type is scrapper cleaning. Unit has motor and cleaning unit auto calibration, scheduler, mechanical power overflow control, temperature control etc.
Specifications:
Powered by AC voltage 220 ​​(±15) V
Maximum power consumption – 30 W
Assumed the use with different types of drive motor and relay systems
Automatic control of cleaning system by schedule and according to the air temperature
Provides the load control of system and provides its protection against mechanical and electrical overloads
A real time clock and the timetable programming tools
A sensor for monitoring the freezing of the system and perform preventive movements against freezing
System auto calibration, which automatically determines the static and dynamic mechanical properties of delta-scraper
Degree of protection against external influences (International Protection Marking) – IP64.