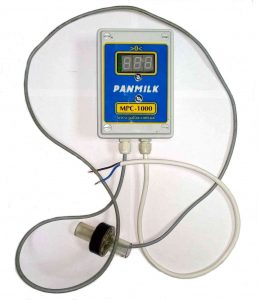 This unit is used for milking systems such as "pipe-line".
The device consists of the photoelectric sensor and the control unit. The control unit has the plastic sealed enclosure with 3-digit LED display that is clearly visible in the dark. Voltage supply is 15 V. Milk counter reset is done by rising of a magnet to the unit body.
The counter is provided with auto save power mode. It allows to automatically memorize the data in case of power failure. The waterproof performance provides the high reliability and durability of the device.
Specifications:
Degree of protection against external influences (International Protection Marking) – IP54.